Add {{ number }} more products to save {{ price }}
0
Add {{ number }} more products to save {{ price }}
noch 1 Produkt für gratis Versand (spare 5,99€)
Vegan bowls for your healthy routine!
Ready for good food? Buy the Gluten-free* Bundle and get one free bowl.

Basmati Buzz
Indian rice with lentils, cauliflower & p...

Mustard Veggie Roast
Sweet-sour mustard-glazed oven veggie mix

Naked Taco
Tex-Mex rice-bean mix with tomatoes & corn

Harvest Risotto
Pumpkin risotto with spinach & yellow zuc...

Green Dal
Green lentil dal with tomato, parsnip & kale

Ratatouille Romance
Ratatouille with eggplant, tomatoes & pep...

Golden Curry
Creamy chickpea curry with pumpkin & spinach

Chickpea Pepper Roast
Crispy Mediterranean oven veggie mix

Karma Korma
Chickpea-curry with string beans & caulif...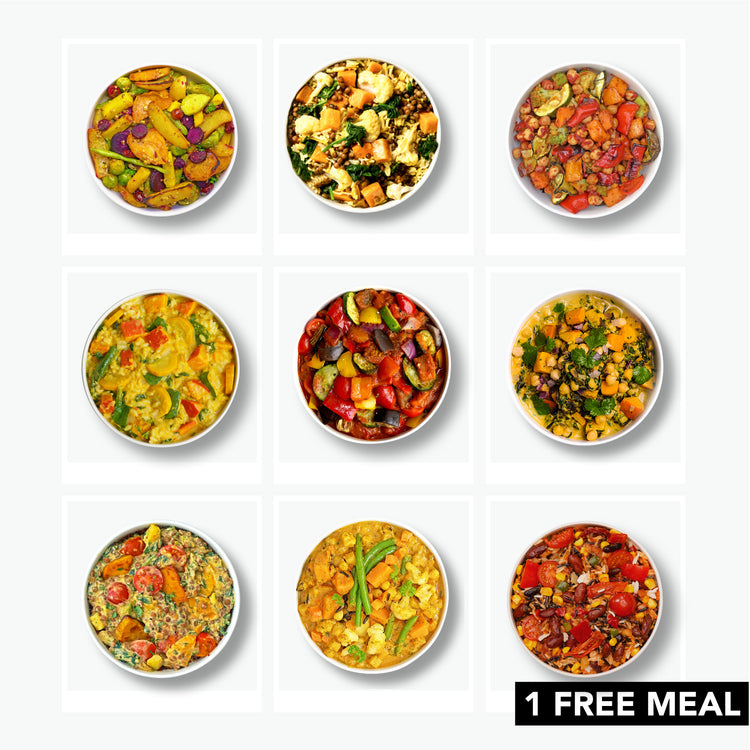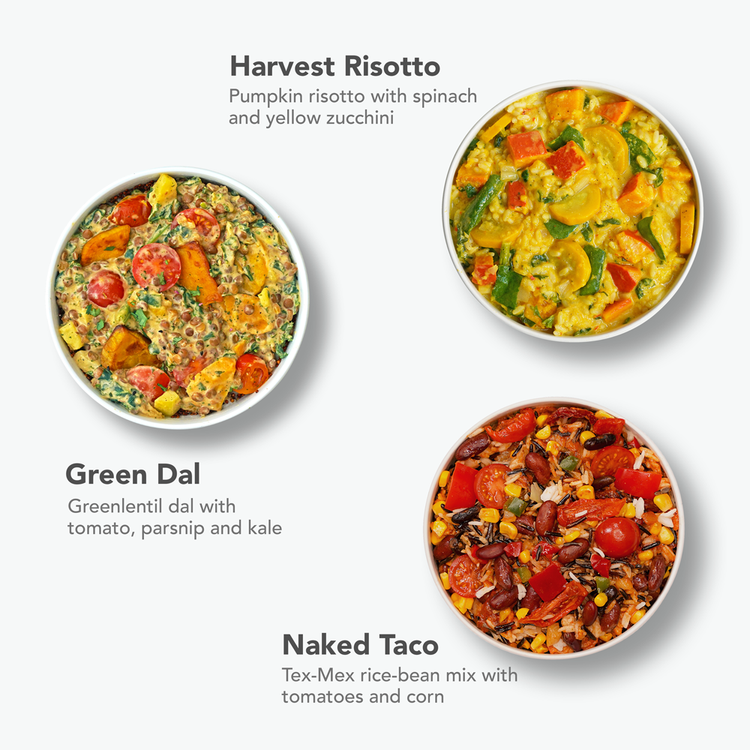 Gluten Free Bundle
A delicious collection of bowls made from a gluten free recipe. *These bowls may contain traces of gluten, and therefore should not be consumed by individuals with celiac disease.

Now with free shipping and one bowl for free. Pay 8, receive 9!


Bundles are not available in the subscription
Free shipping (5,99€ off)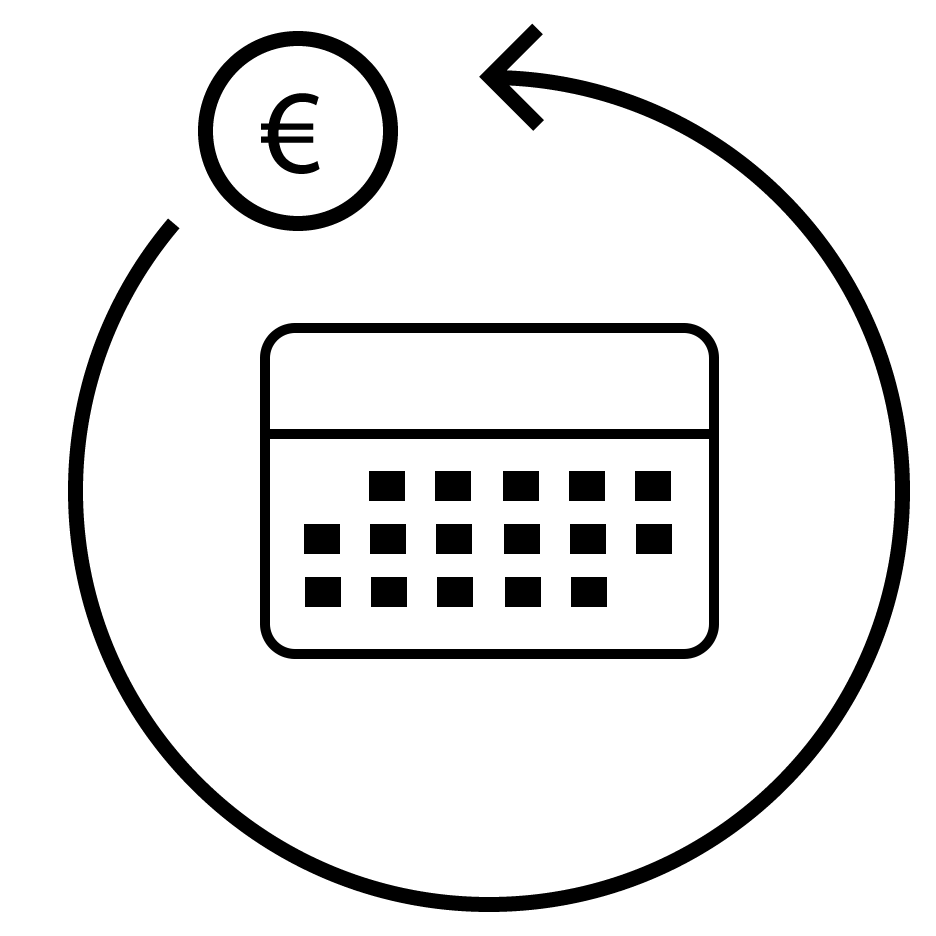 30 days money-back-guarantee
Fit up to 9 bowls in a regular freezer
Our promises
DISCOVER NOW
4.61
Our promise to you.

Simple & stress-free:
Delivered to you and ready in minutes

Healthy & balanced:
Packed with everything you need - vegetables, vitamins, proteins and fibre.

Tasty & versatile:
Full taste with natural ingredients. Discover our bestsellers with a wide selection of great flavours for any preference.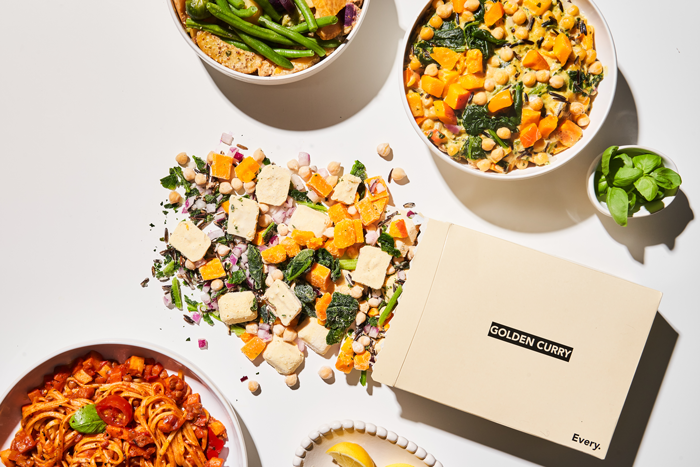 Real customer stories
Real customer stories
"
"It started with a search for a reliable caterer that offered healthy meals. The second requirement was a food provider who could cover flexible and differing working hours. Since finding Every. everyone is satisfied, happy and fitter!"
Carola, 59
"Every. offers the opportunity to eat well, and spontaneously, with an exciting variety of meals. We've been loyal Every. customers for about a year now, so it's no longer a "phase". After eating, we feel great because Every. doesn't give you the feeling that you've overeaten, yet you didn't have to miss out on anything. Quite the opposite in fact"
Bastian, 33
"I don't enjoy cooking and I also don't have much time. However, I still want to eat well, which is how I found Every. It's an amazing solution when I come home feeling tired. All I have to do is select something from my freezer and heat it up. It doesn't get any easier than that! The meals are extremely delicious and taste like I made them myself!"
Lilian, 57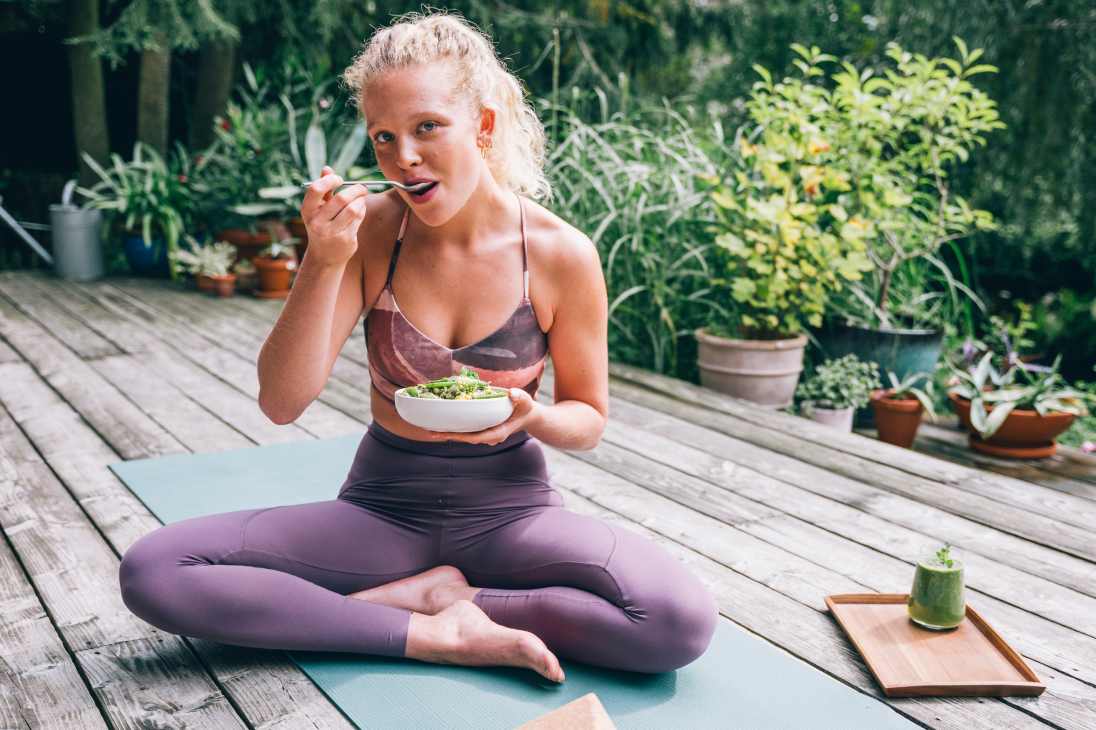 Here's how Every works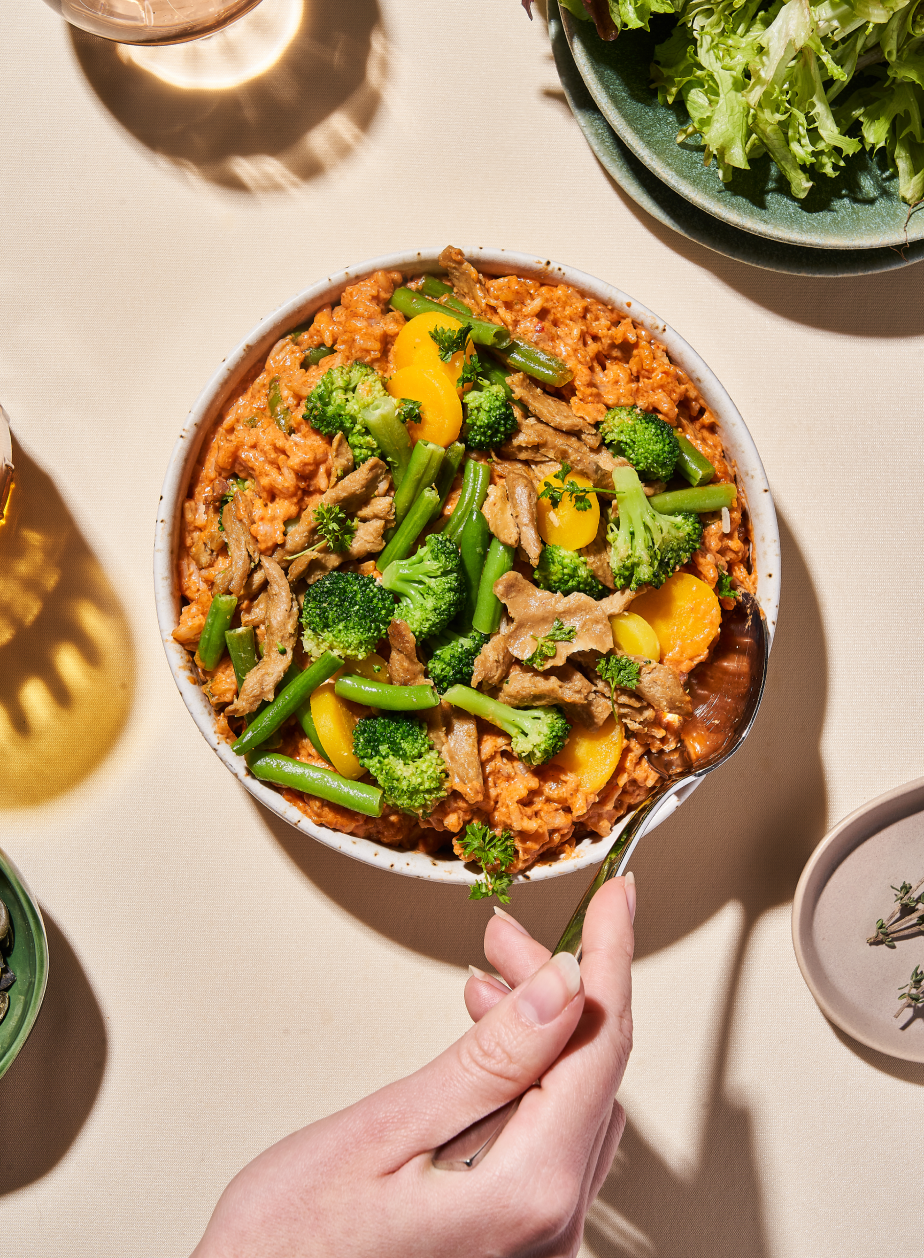 Choose your products
Choose from our selection of delicious, plant-based products.
Freshly cooked for you
Our products are developed by nutritionists, frozen for freshness and prepared for your enjoyment.
Flexible delivery
Comfortably select your preferred delivery date. Your box will be delivered to your door frozen.
Heat and enjoy!
Ready in under 10 minutes. Simply heat in a pan, pot or microwave.

30-days satisfaction guarantee
Your satisfaction is our top priority. That's why we give you a 30-day money-back guarantee.
Flexible delivery
You can choose the delivery date flexibly. We ship within 2 hours or 1-2 delivery days (depending on the location) with sustainable insulation.

Optimised for the freezer
The packaging of our products has been optimised so that 6-8 boxes fit into the smallest built-in freezer compartment in your fridge.

Zufriedenheitsgarantie
Deine Zufriedenheit ist unsere höchste Priorität. Deshalb versichern wir Dir eine 30-tägige Geld-Zurück-Garantie.
Flexible Lieferung
Das Lieferdatum kannst Du Dir flexibel aussuchen. Wir versenden je nach Standort mit nachhaltiger Isolierung innerhalb von 2 Stunden oder 1-2 Liefertagen.

Für den Freezer optimiert
Die Verpackung unserer Produkte wurde so optimiert, dass 6-8 Boxen in das kleinste eingebaute TK-Fach in Deinem Kühlschrank passen.
Good to know
The boxes are quite compact (17cmx14cmx5cm). 6-8 boxes will fit into a small freezer compartment in a normal fridge. If you have an entire freezer drawer, 12 boxes will fit easily. If you've got limited space available, you can also keep the boxes in the fridge for two days and eat them right after. Don't refreeze them after they've thawed.
We ship within Germany, Austria, The Netherlands, Belgium, Luxembourg and Denmark. We deliver directly to your home or office (not to packaging stations). The products are packed with compostable isolation and dry ice to keep them frozen during transport. They will arrive the latest in the evening on your chosen delivery day. Please put them in the freezer once you receive them. In Berlin, we have a special service and deliver within a two hour time frame.
You'll receive detailed tracking information regarding the delivery of your package, including a specific time frame. In case you can't be there to receive your package, you can issue a drop-off permit or have a neighbour accept the package for you. The only important thing is that you put the products in your freezer in the evening.
We accept almost all credit cards, PayPal, ApplePay, Klarna, instant transfer and direct debit.
Each product is ready in just under 10 minutes. You'll find specific instructions on the back of each package or on the product listing on our website.

If you have any more questions, head over to our FAQ!