Add {{ number }} more products to save {{ price }}
0
Add {{ number }} more products to save {{ price }}
noch 1 Produkt für gratis Versand (spare 5,99€)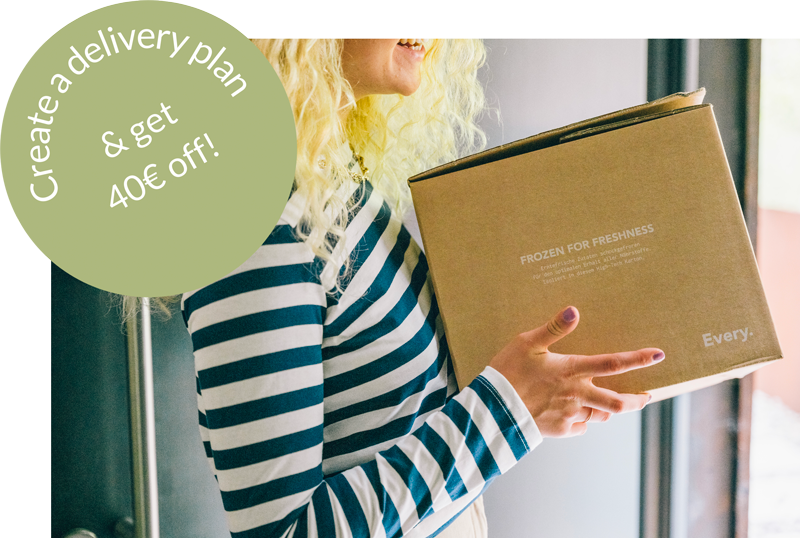 The easiest way of healthy eating

40€ discount on the first four deliveries

Pause, skip or cancel any time

Customisable delivery frequency

Healthy nutrition, at anytime
SUBSCRIBE NOW

Subscribe
Curate your box with your favorite meals, select the delivery frequency and the first delivery date in the checkout and create your plan. You can pause or cancel anytime.

Enjoy
You'll receive your Every. box every selected time period. No shopping or chopping required. Heat & enjoy within minutes.

Save
Benefit from a 10€ discount on all your first 4 orders and save, compared to the individual purchase price!
Healthy & delicious, at any time
Are you looking for a convenient way to eat healthy and delicious meals, without having to spend hours meal prepping or constantly ordering takeout? Look no further! Our subscription model for healthy convenience food is here to revolutionize the way you fuel your body. With regular deliveries your freezer will always be stocked with the frozen goodness of wholesome bowls.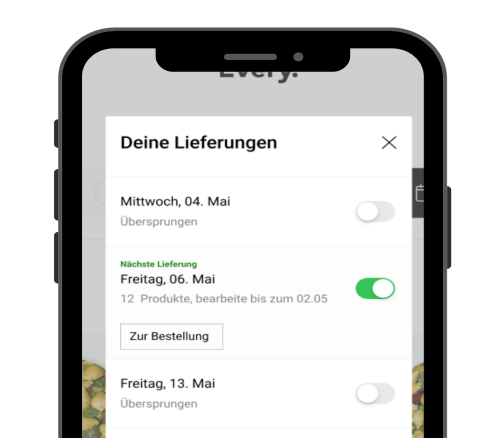 Profit with no worries
With complete flexibility, you can pause or cancel your subscription anytime, and the best part? You'll actually save money compared to ordering single meals. Say goodbye to mealtime stress and hello to healthy and satisfying meals, delivered right to your door. Sign up today and take control of your healthy eating habits!
SUBSCRIBE NOW
What our customers say
Good to know
The subscription brings several advantages for you! You get a 40€ discount on the first 4 orders in your delivery plan. You can change the delivery intervals, product type and size whenever you like. You can also pause your deliveries whenever you want. But the best part is that you get Every. delivered directly to your door with no hassle!
No, there is no minimum commitment period. The subscription can be cancelled or paused at any time.
You can flexibly adjust the delivery intervals, product varieties and sizes for your subscription at any time. Based on your delivery interval, all upcoming delivery dates will be suggested to you. You will receive a notification before each upcoming delivery. You configure your first delivery normally through our online store.
You can place one-time orders normally via our online store.
You can determine the box size when you create your delivery schedule. The subscription has a minimum order quantity of 6 products per delivery - just like one-time orders.