Add {{ number }} more products to save {{ price }}
0
Add {{ number }} more products to save {{ price }}
noch 1 Produkt für gratis Versand (spare 5,99€)
7. July 2022
Overnight Oats – Healthy Recipes for Breakfast
Overnight-Oats, Muesli, Porridge, Oatmeal – the foundation of these popular breakfast meals is oats! What makes this star ingredient healthy, versatile and so easy to prepare?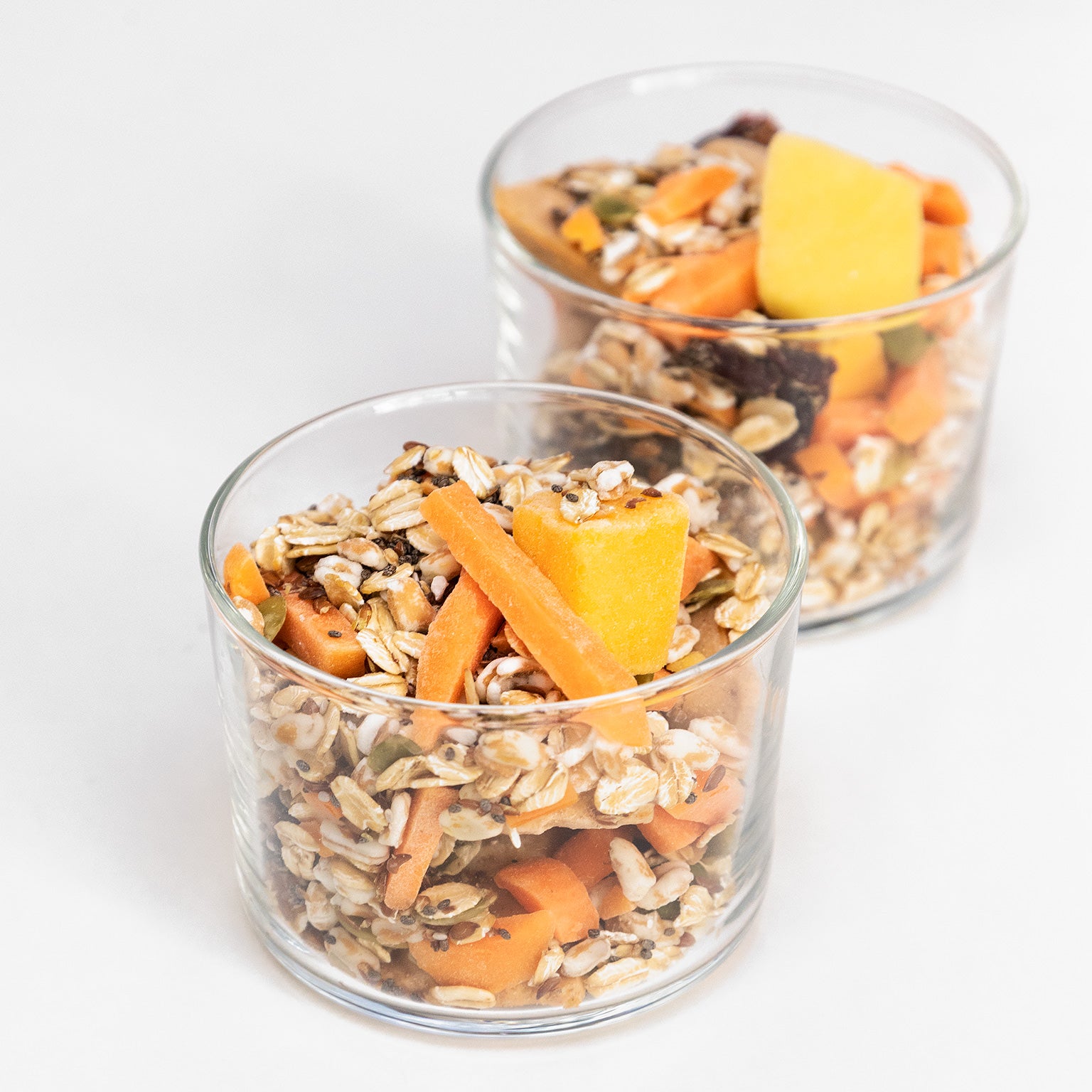 Overnight Oats and the Diversity of Oats
Contents of this article:
The diversity of oats
Oats – Quick, healthy and delicious
The go-to recipe: Overnight Oats
Additional healthy oat recipes
Porridge – For a warm breakfast
The diversity of oats
'Overnight' as the name suggests, is a preparation period that takes place between the night and the morning. What can you do with oats that have soaked overnight? A variety of things, including porridge, oatmeal and other oat creations. Or if you prefer, you can simply add them to a yogurt or your cake as a baking add-on.
But what's the difference? Oatmeal and porridge can basically be used interchangeably, but they do have two distinct differences. Porridge has to be cooked and is consumed warm. Oatmeal on the other hand is typically cold. In addition, the two differ in the use of the name - in Scotland (the country of origin) it's called "porridge", in the USA "oatmeal".
Did you know that there are different types of oats? Rolled oats, quick oats, steel-cut and instant. Rolled oats are typically larger and heartier in size. Quick and instant oats are fine. Their use depends on the specific recipes. Mueslis are typically made with rolled, larger oats, while porridge recipes usually ask for quick or instant oats.
Their shared characteristic is also their immense benefit: they offer a quick and sugar free breakfast option that is not only easy to prepare but also tastes amazing!
PSA: porridge and oatmeal are meals suitable for almost everyone. They are available in both vegan and gluten free options!

Oats – Quick, healthy and delicious
The best advantage of overnight oats is the simple preparation, without any actual cooking! Perfect for all of us who prefer sleeping in a bit or generally don't have much time in the morning (most of us, right?). Left to soak in milk or water overnight, and voila a few hours later you've got a delicious, quick breakfast. Increase the portion size a bit, and you've got your breakfast sorted for the week. Overnight oats are therefore a great meal prep option.
Overnight oats can also be a great element of a nutritious, healthy diet. They're high in fibre and essential for good gut health and promote a healthy digestion. For those that suffer from constipation should incorporate more oats into their diet. Furthermore, they contain complex carbohydrates and fatty acids which prevent our blood sugar from spiking. This means that we stay full and energised for a longer, sustained period. This also makes them a suitable meal option for anyone observing a clean eating or low carb diet.
Oats also provide our body with valuable vitamins, minerals, magnesium, iron, antioxidants and amino acids. They can help reduce cholesterol levels and promote cardiovascular health. Fitness freaks should rejoice over overnight oats because they're quite the protein bomb. 100g of oats contain 13,5g of protein.
The calories found in overnight oats can differ dramatically, depending on what additional ingredients are used. Nuts for example are a caloric topping, but also contain valuable protein. Be aware not to overeat. Overnight oats can contain roughly 350 calories per 100g. 50g should therefore be sufficient for a normal portion.Are you curious to try them? We have the best tips and even some healthy recipes for you!

The go-to recipe: Overnight-Oats
Create a delicious breakfast with overnight oats. This first step is to let your oats soak overnight in your fridge.
For one portion you'll need:
50g oats (we recommend rolled)
150ml of water or milk of your choice (could be more or less depending on the desired consistency)
Toppings of your choice (fruit, nuts, chia seeds etc.)
Combine in a glass or bowl, mix well and if you feel like it, add some chia seeds to the mix as well! Leave the mixture overnight in your fridge for the oats to soak up the liquid. By morning your oats will be finished. For the ultimate power-breakfast combo, you can decorate your oats with a variety of toppings. Cinnamon, nuts, nut butters or fresh fruit like berries, apples or bananas make for a delicious creation. The fruit can be pureed or chopped. Add it to the overnight soak mixture or garnish your oats in the morning–as you prefer!

Other healthy porridge recipes
In addition to our go-to recipe, we've got a few more to take your oats to the next level.
Chia-Pudding
Chia seeds are known to be a kind of egg replacement for vegans due to their high protein and omega-3 fatty acid content.
For 1 portion you'll need:
4 TB chia seeds
250ml milk of your choice
8 TB oats
250ml yogurt
Toppings of your choice
Combine the chia seeds with the milk and wait a few minutes for the milk to absorb. Stir the mixture and add a bit more milk so that it's really liquid. Add the oats to the mixture and then pour into a glass, add some yoghurt and top with the fruit. Add a lid and place in the fridge overnight. Your vegan chia-overnight oats will taste amazing eaten in layers or mixed together, your choice.
Muesli
Use the foundation recipe to make your muesli base. Add a combination of grated fruit, nuts, raisins or some honey to the mixture and enjoy cold!

Porridge – For a warm breakfast
Everyone who prefers a warm dish for breakfast, should get friendly with porridges! In contrast to overnight oats, porridge is typically made with fine oats.

Classic Porridge
Combine 50g of fine oats, 200ml of milk and pinch of salt into a top and let the mixture simmer for 5 minutes. You can tell if your porridge is done once the oats have soaked up most of the milk. Then remove from heat and pour into a bowl. Garnish with toppings of your choice.

Scottish Porridge
Scottish porridges distinguish themselves from other porridges because they typically include tender oat flakes, as well as a pinch of salt. Combine the oats in hot water or milk, add some salt and let it simmer in a pot. Then let rest for a brief period. Garnish with toppings like nuts, berries, cinnamon, an apple or banana. You can pick from a range of superfoods that you find tastiest.

Baked Porridge
Baked oats are also very easy to prepare. You'll need oats, (vegan) milk, and an apple or banana. As always, you can elevate the breakfast with additional fresh fruit. Combine the ingredients and pour into a greased baking dish. Heat oven at 180° and let it bake for 25-30 minutes. Then remove, let it cool and get ready to enjoy!

Discover other exciting topics:
For even more foodie-content follow us on Instagram and join the Facebook Community to get involved in meal creations and to stay up to date on all things Every.