Add {{ number }} more products to save {{ price }}
0
Add {{ number }} more products to save {{ price }}
noch 1 Produkt für gratis Versand (spare 5,99€)
8. August 2022
Art of Yoga – How to Bring Body and Mind into Harmony
Yoga is more than just a hyped fitness discovery. Discover about it's wide ranging benefits and how it can improve your mental and physical fitness!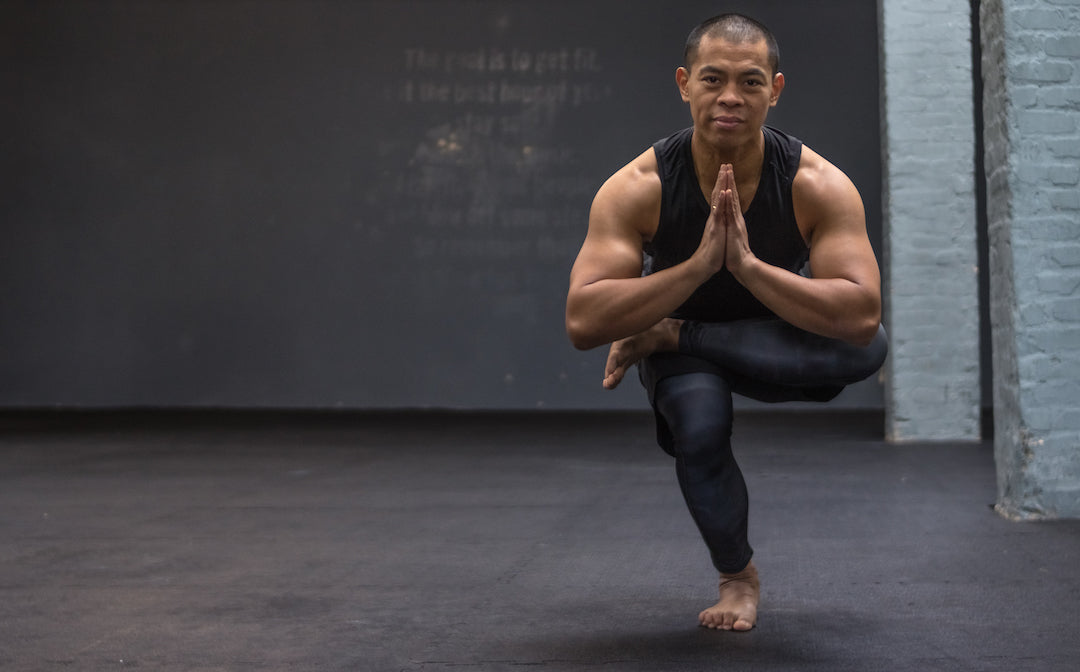 For many people, yoga is an integral part of everyday life. About 5 % of Germans sweat, breathe and meditate on a daily basis to counterbalance stress or to simply stay physically and mentally fit. But what exactly is yoga? Yoga is a practice that originated in ancient India and combines different poses (asanas) and meditation with a more controlled breathing (pranayamas).
As with so many types of sport, there are different styles to be found within in yoga. You've probably heard of Hatha or Tantra Yoga, but are maybe still unclear what the differences are? While Hatha Yoga is physically challenging, Tantra Yoga focuses rather on the mentally challenging aspects. But the goal is always to create more balance between the body, mind and soul.
Yoga for increased energy and inner balance
Yoga has a positive effect on your body, mind and soul – that's for sure. But did you know that the combination of asanas, breathing and meditation can help reduce anxiety and can have a positive impact on dealing with depression? But there's more – here are 8 benefits of regular yoga practice.
1. More strength and endurance. The range of asanas help you work a variety of muscle groups, and thus helps strengthen your entire body musculature. Additional stretching and relaxation exercises have a huge impact on your flexibility, which help release tension in your body.
2. Stress reducing. While practicing yoga, you should focus on yourself: stay attentive in your practice and be present. Breathing exercises help activate the autonomic nervous system, which suppresses the 'stress nerve' and helps lower blood pressure and heart rate, i. e. you'll be calmer and more relaxed. This will allow you to maintain a more relaxed attitude while going about your day and dealing with tasks. It will also help you fall asleep faster and sleep more soundly.
3. Improve self-confidence. The conscious perception of your own body and the strengthening of your muscles contribute to more well-being and an improved body image.
4. Hormonal balance. Especially women know all about the physical and psychological effects of hormones. But did you know that practicing yoga contributes to hormonal balance? There are asanas that can help to activate certain hormones resulting in a more balanced hormonal system. You can find courses that focus entirely on this topic online.
5. Boost your health. The combination of breathing and exercising is really beneficial to your health. Studies have shown that yoga not only has a positive effect on the heart and lungs, but the different breathing techniques can also help with asthma.
6. Improved concentration and higher performance. Yoga not only increases your physical performance, but also strengthens your concentration. This is unsurprising, as the holding of an asana and synchronising it with breath requires mental concentration, patience, discipline and will-power, which in return contributes to more mental strength and well-being.
At home, at the office or in the park – yoga can be done anywhere, at any time. The only thing you need is a yoga mat, motivation and some time. The regular execution of basic exercises can boost your well-being significantly and help you become more relaxed, concentrated, flexible and toned. Nowadays you don't even have to go to a studio to do a class, you can simply join online courses (some of them are even free!). What are you waiting for? Hop on your mat and witness the great impact yoga has on your physical and mental well-being.
Discover other interesting articles:

For even more foodie-content follow us on Instagram and join the Facebook Community to get involved in meal creations and to stay up to date on all things Every.