Add {{ number }} more products to save {{ price }}
0
Add {{ number }} more products to save {{ price }}
noch 1 Produkt für gratis Versand (spare 5,99€)
19. December 2022
Veganuary 2023 – The Every. Better Challenge and Key Information About Veganuary
Start 2023 with the Every. Better Challenge: a vegan and sustainable start to 2023 to feel energised and fit!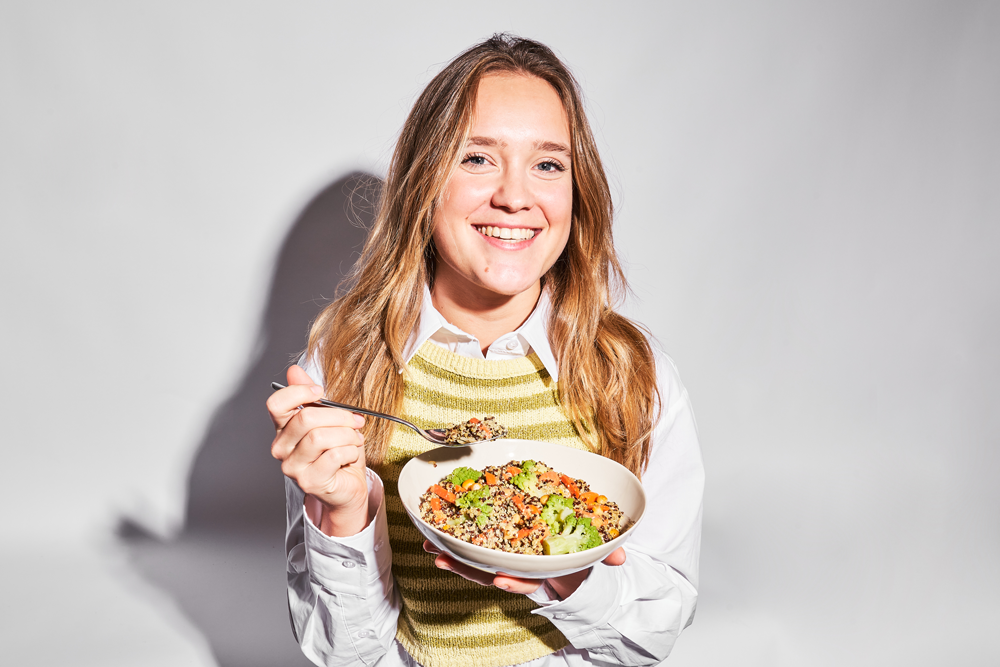 Veganuary 2023 – Your vegan start to the year
New year, new resolution. The most popular new year's resolutions include 'exercise more' (48%) or 'eat healthy' (49%). Those who want to exercise more have to find a new routine and motivation. Anyone who wants to improve their diet, must also adjust their habits. This also means trying to shift towards a vegan diet and away from animal products. Have you wanted to try a vegan diet but aren't sure how to approach it? Then "Veganuary" is just the thing for you!
What is Veganuary?
The campaign name, Veganuary, was established through the fusion of the words "vegan" and "January". The thought process behind this campaign is to motivate and challenge people to live a vegan lifestyle for the entire month of January.
Veganuary came into existence in 2014. Since then, the number of participants has increased steadily. In 2022 alone, over 600,000 people participated in the challenge worldwide. This included a number of celebrities who joined the cause. Last year over 1500 new vegan products were introduced in stores and on menus to celebrate this special month.
Who is behind Veganuary?
The Veganuary challenge gets its name from the British organisation Veganuary, founded in 2014. The essence of the organisation is to equip people with the information and tools to lessen the fear or challenge that surrounds a vegan diet. A purely plant based diet does demand a certain level of will power as well as a restructuring of routines and habits e.g. preparing meals and going out to restaurants.
To motivate participants, and remind them how easy and tasty a vegan diet can be, the organisation sends frequent content in the form of recipes, guides and helpful tips with which individuals feel supported and encouraged. By doing so, Veganuary aims to persuade more and more people to make the switch to a plant based diet.

What will Veganuary 2023 bring?
Cutting out animal products seems like a daunting challenge for some. But what happens after 4 weeks? Do most people reintroduce foods like steak and burgers? What's the point of a challenge like Veganuary?
To get to the bottom of this question, Harvard University's Animal Law and Policy Program calculated the collective impact of Veganuary from 2014 to 2020. The data collected speaks for itself: by 2020, the challenge saved over 100,000 tonnes of CO2, 6 million litres of water and 3.4 million animal lives. And that's not all: a survey showed that more than 80 % of the participants were dedicated to continuing to limit their meat consumption and even eliminate them completely.
4 reasons for a vegan lifestyle
Not 100% convinced yet? Here are 4 great reasons why a plant based diet is an amazing choice.
1. Reduce animal suffering.
On average, every German eats more than 1 kg of meat per week. That's 60 kilograms of meat per capita, per year in Germany alone. To meet this demand, the food industry must resort to factory farming. This involves horrendous and inhumane conditions where animals are treated as commodities, rather than living beings.
2. Protect the environment
Living vegan not only reduces animal suffering, but also contributes to environmental and climate protection. Provided you pay attention to regionality, seasonality and organic cultivation. Did you know that about 15% of the world's greenhouse gas emissions are caused by factory farming each year? In addition, livestock production requires extremely high water consumption (1 kg of beef requires about 16,000 litres of water!). It also demands a huge amount of land devoted to the cultivation of feed. This means huge amounts of deforestation of natural environments to plant monoculture crops like corn and soy.
3. Boost your health
Many studies show that a vegan diet can positively influence our health. Animal products have a pro-inflammatory effect, which can promote diseases such as Crohn's disease or arthritis. Individuals who eat a purely plant-based diet automatically eat a colourful variety of fruits and vegetables, which we know are good for us. Fruits and vegetables contain secondary plant compounds that have anti-inflammatory effects in the body, among other things.
4. Reduce world hunger
Around 10% of the world's population was considered undernourished in 2021. Most of these affected people come from developing areas such as Asia and Africa. It is no longer a secret that this is an entirely avoidable problem: enough grain is grown worldwide to satiate all people. It is a distribution problem, not a demand problem. The additional tragedy is that the countries with the most arable land for grain are particularly affected by extreme food and water shortages. Here, too, most of the grain production is for factory farming.
Veganuary 2023 – Ready, set, go!
Do you want to start the year feeling healthy and fresh? Curious about a vegan diet and how it might make you feel? Then sign up to the "Every. Better Challenge"!
We've prepared something special for you this year. We want to support you on your journey to achieve your goals. For 31 days we will provide daily support in the form of challenges, exclusive offers, a free recipe book and much more! Our challenge is very doable and will make you feel energised and fit! Curious? Get all the information you need here and sign up today!
Discover other exciting topics in the Every. Magazin:
Für mehr Foodie und Wellness-Content folge uns auf Instagram! Und wenn Du mehr behind-the-scenes Content und mit uns Rezepte entwickeln willst, dann werde Mitglied bei der Every. Community.