Add {{ number }} more products to save {{ price }}
0
Add {{ number }} more products to save {{ price }}
noch 1 Produkt für gratis Versand (spare 5,99€)
21. October 2021
Sustainable Packaging
Until we all have a little backyard farm that provides us with all the food we need to survive, (some) packaging will be a part of our lives. At Every., we spend a lot of time thinking about how we can make our packaging as sustainable and resource-efficient as possible.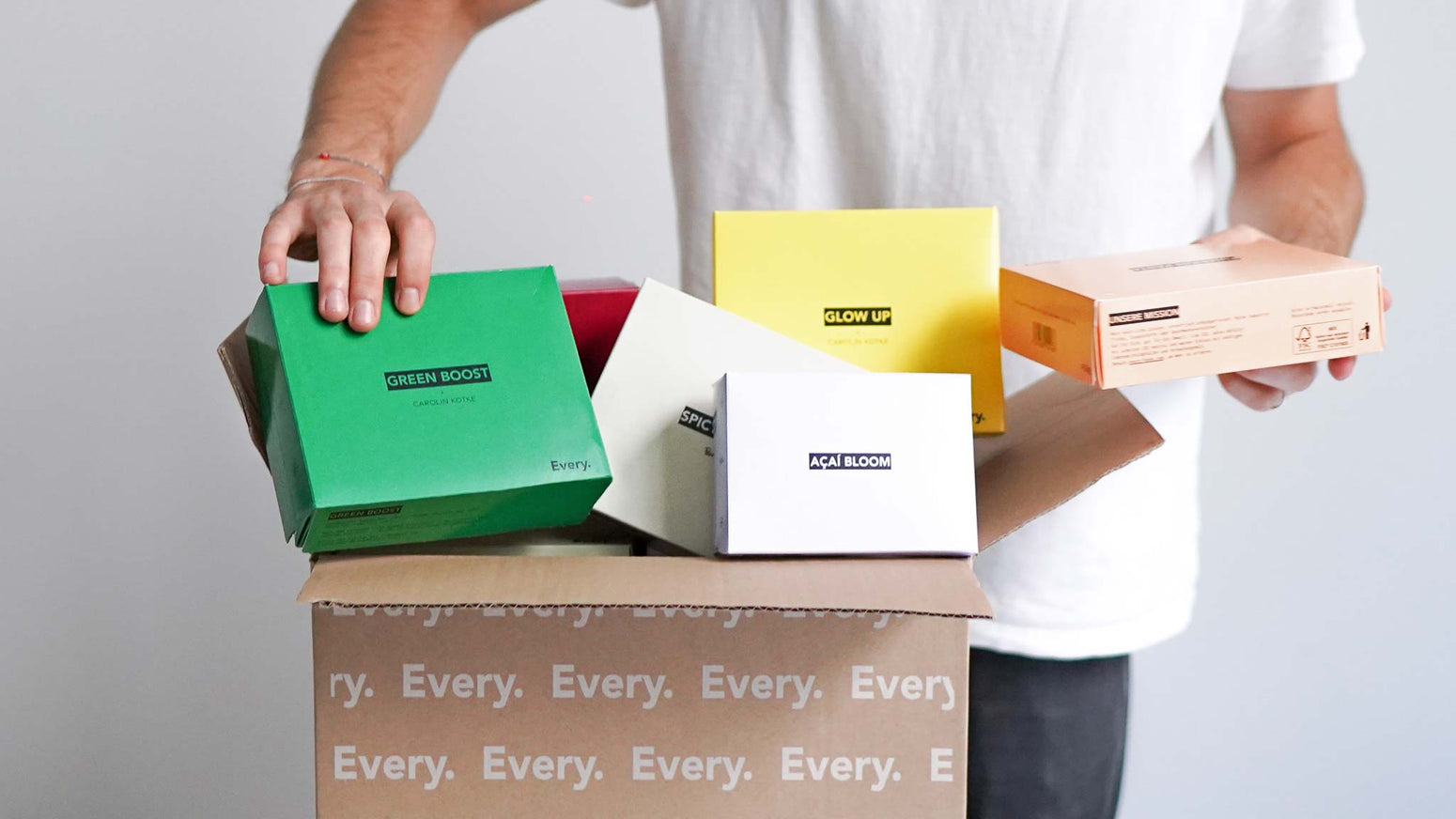 The good news is that our process demands very little materials until the final product. All ingredients are handled in bulk, and when we say "bulk" we really mean bulk. Our carrots come in the biggest cardboard box you've ever seen. It holds 800kg of carrots. That means extremely minimal use of materials along the entire value chain. The bad news is that you (our customer) are confronted with almost all the packaging materials that we do in fact (need to) use. But since we know that our customers are as keen on reducing waste as we are, we pay extra close attention to what we use to make it as effortless and environmentally-friendly to dispose of as possible.
When it comes to shipping, we've recently made an improvement we're very happy about: our new shipping box is made entirely of cardboard. Not only does it enable a faster packing process, the box is also made of 100% recyclable cardboard and requires no tape - so the whole pack can go in the paper bin!
For our bowls, oven-baked bowls, soups, raw cakes, and smoothies we've decided to go for classic paper boxes with a minimal PE coating needed to ensure longevity and food safety. Not only do they look pretty, they're also fully recyclable in paper waste. We love eco-design, and when we can avoid excess paper we do so enthusiastically, as made apparent by our ginger shot sleeves.

We are also working on eliminating plastic packaging altogether. Currently, our ginger shot pods are packaged in 100% recyclable plastic packaging. We've skimmed the market for months and so far, this is the best solution we were able to find. We are working with a startup that makes bio-based pods (from renewable resources) and hope that we can switch to a plastic-free solution for our next production.
Another thing we're not completely happy with is the shrink film on our raw cakes. In order to ensure the food safety of our raw cakes (basically, to avoid cross-contamination caused by nuts), we need to use shrink film that up until today has only been available in PE plastic.
While this is a step in the right direction, there is still a lot of work ahead of us. We constantly research new, more sustainable ways of delivering our products to you.
If you know of any materials or technologies that might be of interest to us and would support our plastic-free mission, we'd love to hear from you! Get in touch via [email protected].