Add {{ number }} more products to save {{ price }}
0
Add {{ number }} more products to save {{ price }}
noch 1 Produkt für gratis Versand (spare 5,99€)
13. September 2022
Quick Lunch Ideas for the Entire Week
Lunch in a flash! We'll show you how you can prepare a quick and healthy lunch while balancing a busy schedule.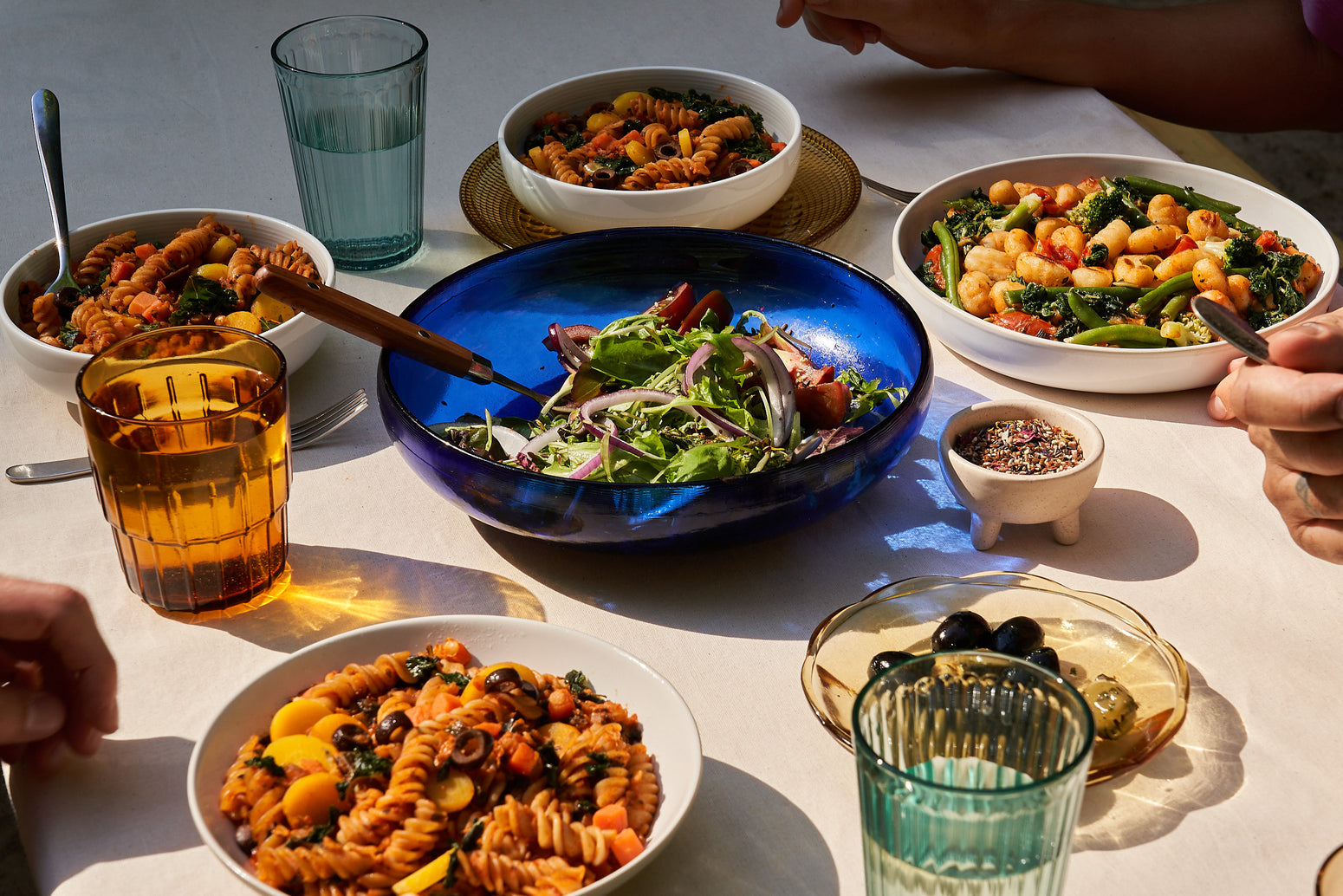 Quick Lunches – Branch out from pasta

Let's be honest, after coming home from work, many of us don't have much energy or desire to stand in the kitchen and prepare a meal. A popular, easy go-to is a pasta meal, but we want to help you bring some diversity and colour to your plate.
Whether you're preparing a meal after work, a snack for on the go, or a bite for your kids, with these tips and easy recipes, you'll have a delicious and healthy lunch ready in minutes. Pasta isn't the only efficient option out there!
Tipp: our bowls have done all the work for you! Just heat and enjoy.
Why have lunch?
Lunch is the second most important meal of the day, after a healthy breakfast. If we have a nutritious lunch, we supply our body with energy and important nutrients to fuel us for the rest of the day. Children should especially adhere to a fairly consistent eating schedule.
Healthy lunch, healthy diet
It doesn't matter how much we eat, or how much time we devote to the preparation. What matters, is what actually lands on our plates. Quick preparation and healthy recipes are not mutually exclusive.
The ingredients you select for your lunch should be as fresh as possible, and contain all the important macronutrients: protein, fat and carbohydrates.
Your daily protein intake can be covered by options like chicken, eggs, vegan protein sources or other vegan meat alternatives like legumes and vegetables.
Fats contain several vitamins that are necessary for cell development and supply your body with the necessary energy it needs. Natural oil sources such as salmon, olives, avocado or rapeseed are usually sufficient to cover your daily needs.
Carbohydrates help avoid cravings throughout the day, and are a good source of fibre. Some top performers include whole grains like oats, quinoa or legumes like peas. Superfoods like nuts, seeds, and vegetables.
Fresh produce like tomatoes or peppers from the farmers market will be a great source of vitamins and minerals.
Quick lunch ideas for the entire week
If you've only got a few minutes to spare for lunch, know-how and the right preparation are key. We'll show you how to make each lunch special with these easy and delicious recipes for every day of the week.
Monday
Green Power to start the week: Asparagus soup
(20-25 Min) (~500 kcal/Portion)
Ingredients:
~100 g vegan butter
25 g vegan butter
2 bushels asparagus
100 ml white wine
600 ml vegan vegetable broth
1 Tomato
Wild garlic oil
Nutmeg
Salt and pepper
Sugar
Melt the vegan brown and regular butter and sieve. Then place to cool. Wash and chop roughly ⅓ of the asparagus into small pieces and roast in the butter at low temperature for 5 minutes. Deglaze the pan with wine and the vegetable broth. Then let simmer until well mixed. Let sit for 15 minutes. Mix the soup once more and then sieve. Chop the remaining asparagus and roast in butter. Caramelise with the sugar. Chop the tomatoes and add to the asparagus. Combine the mixture with the soup and serve.
Tuesday
Taco-Tuesday
Our refreshing and delicious Naked Taco bowl is great on its own, or you can warm up some wraps and garnish with salad. Also a great meal option for an evening with friends.
Did you know that spicy food has some impressive health benefits?
Wednesday
Chili-sin-Carne
(20 Min) (700 kcal)
Hearty and spicy for the midweek hump. Here a quick recipe for a Mexican favourite.
Ingredients:
1 onion
1 pack of vegan minced meat
Mustard
1 aubergine
1 can of corn
1 pack tomato sauce
Salt and pepper
Optional:Chili-con-Carne spice
Roast the onions in a pan until they are caramelised. Add the minced "meat" and add a bit of mustard. Sprinkle salt and pepper to taste and fry until it is golden brown. Add the corn, tomato sauce and slices of aubergine. Let simmer until all the ingredients are cooked and season to taste. Done!
Thursday
Couscous-Salad
(20 Min) (~350 kcal)
Lots of veggies, no meat and quick to prepare! This meal adds an oriental fusion to your meals.
You'll need:
200 g Couscous
4 spring onions
2-3 Tomatoes
1 red pepper
½ cucumber
1 TB tomato paste
Mint
Parsley
Cumin
Mild Paprika powder
Olive oil
Lemon juice
Dandelion honey (vegan)
Salt and pepper
Add the couscous to boiling water, add sugar and let sit until the water has been absorbed. Fluff it up with a fork. Chop the vegetables into small pieces and add to the couscous. Combine the remaining ingredients and adjust the flavour according to your preference with the spices, lemon juice and olive oil.

Friday
One-Pot-Pasta
(~30 Min) (~450 kcal)

This one pot recipe is super easy to make and a real crowd pleaser for the whole family!
Ingredients for 1 portion:
~100 g pasta
1 onion
1 clove of garlic
½ chili
~ 100 g cherry tomatoes
1 TB tomato paste
1 TB olive oil
Balsamic vinegar
Basil
Salt and pepper
Chop the onion, garlic and chili. Tear up some basil leaves. Add all the ingredients (yes, all!) to a pot, add the pasta and submerge in water. Bring the whole mixture to a boil and then reduce the temperature and let simmer for 20 minutes. Mix frequently.
This is also a great recipe for meal prepping.
Weekend
Fresh Rolls
End the week on a more relaxed note with your friends! With this delicious and simple recipe for fresh rolls, you can prepare them in a group and enjoy them all together. A fun way to hang out with a tasty reward.
With our easy recipes, finding a quick lunch solution is a no brainer!
You'll love these articles too:
For even more foodie-content follow us on Instagram and join the Facebook Community to get involved in meal creations and to stay up to date on all things Every.