Add {{ number }} more products to save {{ price }}
0
Add {{ number }} more products to save {{ price }}
noch 1 Produkt für gratis Versand (spare 5,99€)
20. October 2021
Meet Sofia Tsakiridou
Sofia Tsakiridou is a model, influencer, yoga teacher and 2-time cookbook author. Together, we developed three cosy bowls, Cauli Comfort, Hearty Hummus & Harvest Risotto. These dishes are an embodiment of Sofia's values: conscious eating, health and enjoyment.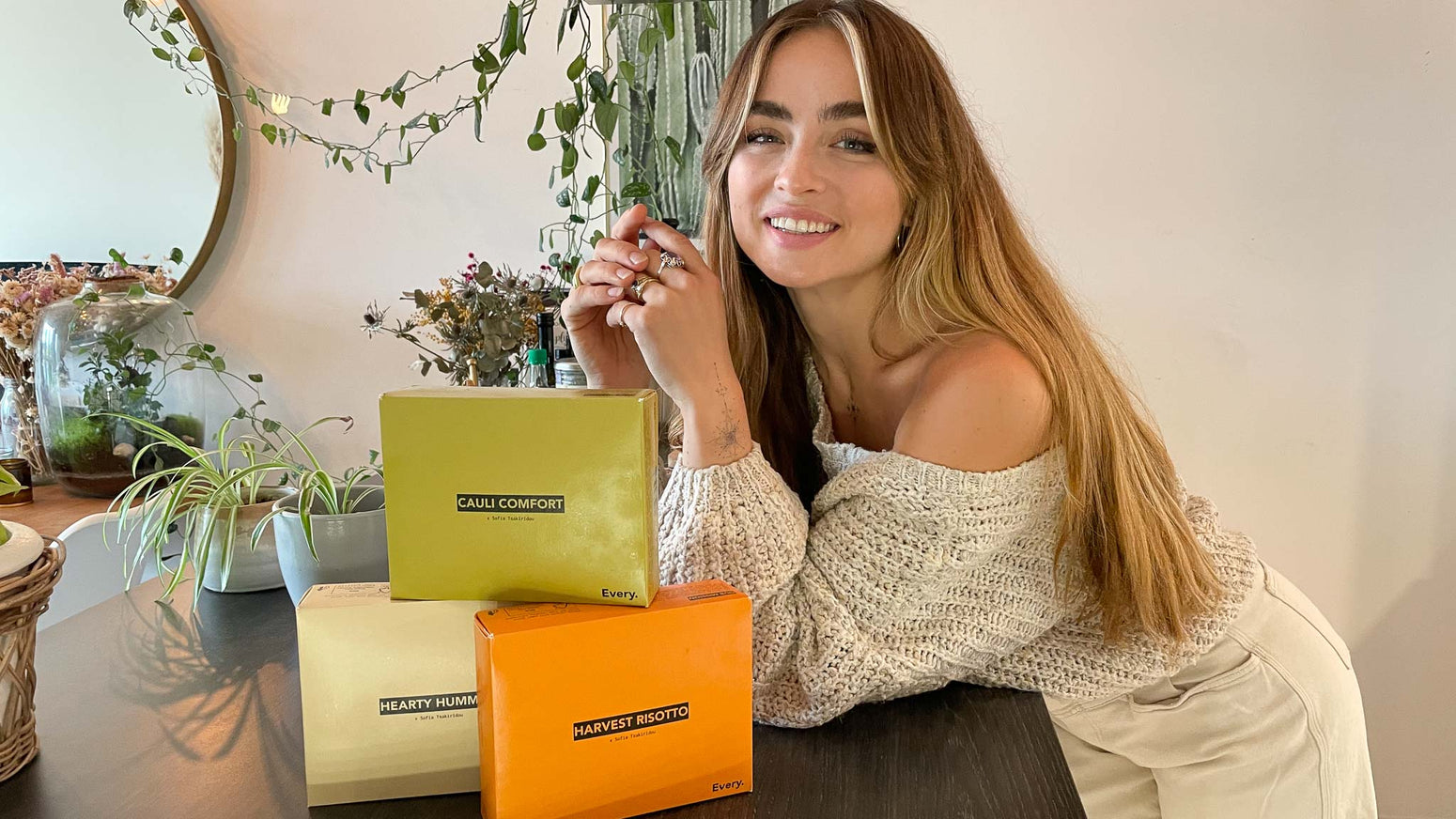 3 new Every. bowls - a collaboration with Sofia Tsakiridou
Sofia Tsakiridou, also known as matiamubysofia is a model, influencer, yoga teacher and 2-time cookbook author.
Sofia has made a name for herself in the last years and built an impressive career as one of Germany's most successful influencers. She has a community of hundreds of thousands of followers who she inspires with her values, tips and cheerful disposition. On her platform she shares yoga, meditation and self care advice and is a role model for self-love, body consciousness, motivation and inner balance. One of her greatest passions is cooking and here she also places a lot of value on consciousness, health and above all, enjoyment. In her two cookbooks 'Eat Love Happiness' and 'Simply Sofia' she shares a multitude of feel-good recipes, many of which are inspired by her home country of Greece.
Together with Sofia we created three delicious, warming bowls that embody her values. They are perfect for the autumnal months and are packed full of colorful vegetables, warming ingredients and refined herbs. The collection contains Cauli Comfort, Hearty Hummus & Harvest Risotto. They will be available on the 31st of October!
Brussels sprouts and parsnips on a bed of cauliflower rice and bulgur, topped with cranberries. A blend of ground porcini and warming spices create heavenly, umami sensations. Perfect for the colder months.

An indulgent medley of potato and sweet potato, paired with carrots, yellow pepper and celery. A rich hummus-inspired sauce creates velvety sensations. Topped with fruity pink peppercorn and pumpkin seeds for a satisfying crunch, bite for bite.
The fall risotto we've been dreaming about: creamy and comforting, with our autumn favourite: pumpkin. Complemented by slices of yellow zucchini and spinach, rounded off with coconut cream for harvest flavoured harmony.


Interview with Sofia
Hello my dears! My name is Sofia and I had the pleasure of creating three wonderful, cosy bowls together with Every. These bowls are perfect for the fall and upcoming cold months and I'm so excited to be able to share them with you!
What does good food mean to you?
Good food is nourishment not only for your body, a kind of wonderful natural medicine, but it's also nourishment for the soul. Food should make your stomach as well as your heart happy because our bodies are a wonderful, interconnected system!
What's most important in your daily nutrition?
It's essential that my food nourishes my body. So I pay attention that my food really contains great ingredients that I know are fresh and that nourish me and give me the energy that I need. But also beyond that, the joy of eating! Food shouldn't just be fuel for this wonderful machinery that is our body, but should also enrich the soul and give us lots of endorphins, happy-hormones and love! The diverse positive effects food can have on our body is why I love it so much!
What are your favourite ingredients or cuisines?
Oh goodness that's a really tough question! I would say I adore fresh, delicious vegetables combined with coconut blossom sugar. I really love caramelizing things! I definitely can't go without a good nut-mousse or nut butter. Those can always go a long way and are a staple in my kitchen. In addition, lots of fresh herbs. Whether I use them as a garnish on top of delicious cosy bowls, or to create a lovely herb salad. That's something I really enjoy eating. And of course I can't neglect my sweet tooth. Whether it's something chocolatey or vanilla-y, I love cooking with nuts and cocoa butters to create yummy delicious treats!
What inspires your cooking?
I get inspired by all sorts of things! My travels, the people I meet, the cultures I discover, the cuisines--you name it! It's never one specific or isolated thing. I have a mediterranean background--my parents are both from Greece and as a result I adore mediterranean cuisine. But I also love food from the Middle East and Asia. The options are really limitless-I love a lot of things! I also really enjoy fusing different tastes together, my only real guideline is creating a flavour explosion every time--as well as bite for bite!
Especially now in Winter, what does self care mean to you? Nutrition and beyond?
Self care means integrating little moments every day that make me feel good. I focus on consciously taking time for myself, and this of course also applies to any activity in the kitchen. I nourish my wonderful body but also my soul and really want to have a conscious experience when I eat. I want to enjoy the moment, feel light and free and just be really present. Especially in winter, I sometimes like to approach things in a more relaxed, slower way. I like having a morning routine and use nice oils that nourish my skin. I also carve out time to rest and relax. Yin Yoga or a meditation that allows me to just shut off for a bit when everything around me is hectic and a bit crazy are super important. Self care also means having the occasional cosy evening where I do absolutely nothing. Really just finding a balance within it all and to be more in tune with yourself. Discovering what feels good in the moment, and what nourishes not only the physical body, but also your emotional and mental state. To me, that's the secret behind it all!
You've written two cookbooks already, and have now developed these bowls with Every. Are there any other food-related projects in your future that we can look forward to?
Oh what a wonderful question! I just love experimenting with food and it's so rewarding to be able to share it with people. That's why this collaboration was really a dream come true! I do in fact have a few projects planned, but currently they are mainly just ideas so there aren't a lot of concrete news I can share just yet. But you can definitely get excited about upcoming plans. My ideas when it comes to food won't run out any time soon and I just love sharing them so yes-- you can definitely look forward to some delicious treats!
What are your top 3 tips for holistic well being?
Small tools that you can integrate in a long term time frame. So: consistency is key. To me that means a morning routine. Whether it's 10 minutes or an hour, each person has to define that for themselves, based on what feels best. Every day can also be different, important is just to integrate moments that make you feel good and help ground you. Personally, I love doing a stretch in the morning or a quick yoga flow or some breathing exercises. Anything that centers me I find very beneficial. Spending time in nature is also absolutely invaluable. We often forget that we are of and from nature, and connecting with it is so important. Whether that means you walk barefoot somewhere, or skinny dip in cold (or warm) water. Connecting with the elements and feeling like you're part of nature makes me feel great. I also really value taking time off. Whether that means that I'm completely offline and unplugged, or I go to a small festival with friends---anything really that fuels the body and soul. I also love painting with my girlfriends. Listening to music, dancing, moving my body is also all part of holistic self care and well being. Anything that stimulates my mind, my emotions and my sense of self. I hope some of this inspires you and includes some useful takeaways. I'll also add a top four because like I said, cooking is such a wonderful and nourishing tool for me. It not only supplies us with energy, but can just create immense feelings of happiness and satisfaction. With the bowls that I just prepared for example: Cauli Comfort, Hearty Hummus und Harvest Risotto - they're done in just a few minutes and will hopefully fill your hearts and bellies with happiness!

Available on the 14.11.2021