Add {{ number }} more products to save {{ price }}
0
Add {{ number }} more products to save {{ price }}
noch 1 Produkt für gratis Versand (spare 5,99€)
8. December 2020
Meet Lee Maas
Ein Kunstprojekt für den Guten Zweck Lee Maas ist Foto- & Videograf sowie Künstler und hat zusammen mit Every. an einem Kunstprojekt für den Guten Zweck gearbeitet - rund um Liberta's Ingwer Shots.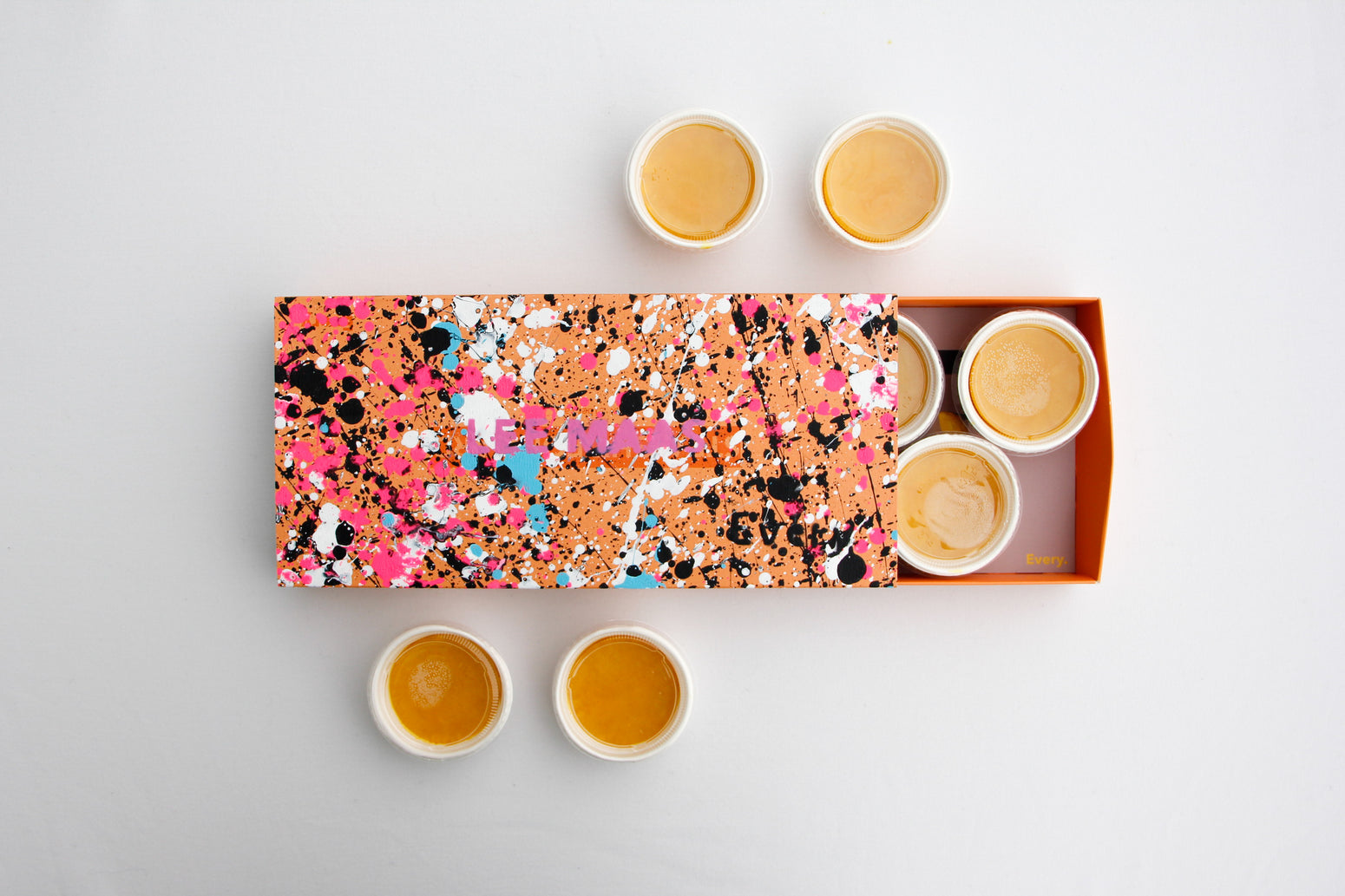 An art project for a good cause
Lee Maas is a photographer & videographer as well as an artist and has collaborated with Every. on an art project for Good Cause - all about Liberta's Ginger Shots. Using his creative eye and artistic talent, he has transformed your Straight Forward packaging into its own unique piece of art. And not only does it look beautiful, but it also does good, because together with Lee Maas, we're advocating for those who need help.
As the cultural and art scene is particularly affected by the current lockdown circumstances, we are donating 5€ for every order of the Limited Artists Edition to the fundraising organisation 'Corona-Künstler-Hilfe' . The initiative #coronakünstlerhilfe was founded to support artists who are in financial distress through no fault of their own. The donations are collected by the association "1st class session-Artist Support-e.V" and distributed to the artists*.
Limited Edition Straight Forward x Lee Maas
The Every. x Lee Maas Edition launches on Thursday, Dec. 10, 2020 and runs only while supplies last. The artwork will be included in a separate envelope with each Limited Artist Edition box ordered. To protect the Lee Maas sleeves from getting wet and icy, do not storethem in the freezer. That would be too bad, because the artwork can be used just as you like. As a sleeve for letters, storage box or decorative object - let your creativity run wild. Secure your own exclusive work of art and become a part of the Every. x Lee Maas fundraiser. We are looking forward to seeing everyone who is part of it.
Interview with Lee Maas
What is behind the project Every. x Lee Maas?
Not only many hours of loud music and lots of paint on my hands in the studio, but also the networking of two different industries: Art/Urban aspect and Food/Sustainability. As a joint project, both competences result in elementary synergies and unite to create a unique lifestyle product.

What excites you most about your job?
The variety of almost infinite possibilities and variations to implement one's creative mindspace. In art there are no limits and no right or wrong. I value my artistic freedom very much.
Describe your art in as few words as possible.
Cheeky, but classic. Orderly, but free. Lively and deep.
Where do you find your inspirations?
Inspirations come from any everyday moments or even from things you've experienced. I get inspired by life 24/7.

The arts & culture scene has been particularly affected by the current lockdown circumstances. How can you offer support?
Many small acts of kindness can end up making a big difference. Don't take it for granted that arts and culture exist. Whether it's the little boy with his self-painted pictures who realises "well I'm making money from my paintings" and so continues to hold on to his dream of becoming an artist - or established museums and exhibitions, musicians, clubs.... Or the pub you trust - without people who bring these areas to life, it really does get quieter and quieter around us. We urgently need to prevent this with small acts of kindness. Discover more of Lee Maas and his works here.