Add {{ number }} more products to save {{ price }}
0
Add {{ number }} more products to save {{ price }}
noch 1 Produkt für gratis Versand (spare 5,99€)
29. April 2022
Quick and Healthy Lunch? Easy as Pie.
Quick meal options are popular, and necessary, for most lunch breaks. However, we often go for fast food options that are unhealthy and bad for our productivity. We explain why a healthy lunch is so important and how to easily integrate these into a busy schedule.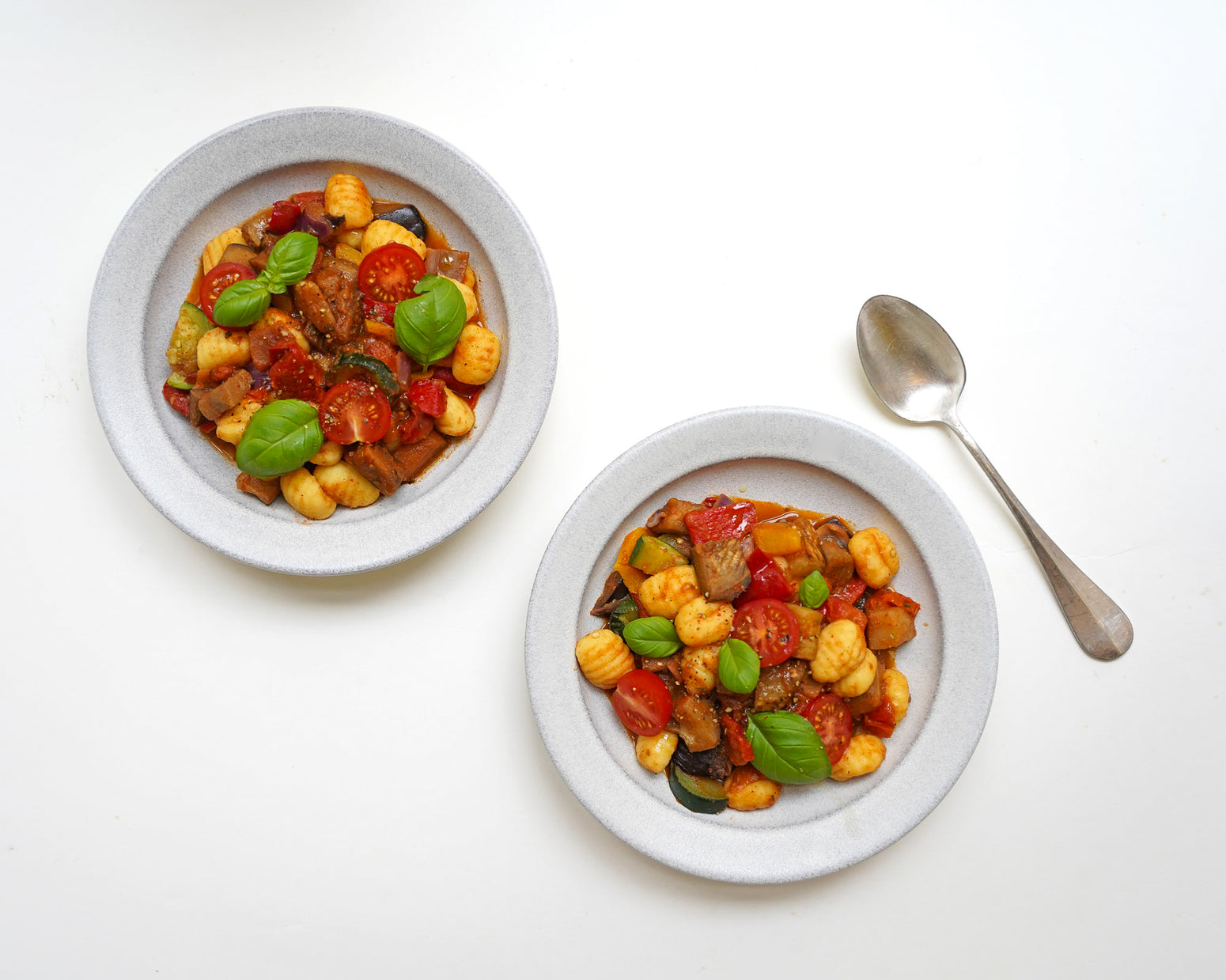 A Healthy Lunch is Key
Meetings, long to-do lists, brainstorming sessions….the list of tasks you've completed before lunch time is considerable! That's why it's so essential to have a nutritious and healthy lunch and re-up on fuel and energy for your brain and body to power through the afternoon. We'll explain what a good lunch looks like and which ingredients are particularly important.

Contents of this article:
Why is a healthy lunch important?
What does a healthy lunch look like?
Plan ahead!
What about ready-made meals?
Our tips & tricks for a healthy lunch
Why is a healthy lunch important?
Jumping from one meeting to the next? Are snacks and fast food your trusted companions to keep this momentum going? Nowadays, there are countless 'quick and dirty' ways to feed yourself on the go. A daily lunch of pizza, burger or sandwich are however far from optimal for your body. These foods may be quick to prepare and eat, but won't keep your energy levels up. Quite the opposite, these foods will cause fatigue and sluggishness, and for the second half of the day a nap seems more likely than getting work done. This is unsurprising if you take a look at the ingredients: lots of carbs, sugar and fats (not the good ones!) that are also highly processed and have very little nutritional value. One thing they are good at: making you tired.
Why? Well the consumption of lots of carbohydrates (including sugar), causes a release of insulin to transfer the sugar into our cells. This means that our blood sugar levels sink, causing feelings of fatigue and cravings. If you want to avoid this, you should pay attention to what lands on your plate at lunch. More on this topic can be found in our article on balanced eating and healthy weight loss.

What does a healthy lunch look like?
Most of us know that processed snacks and fast food don't constitute a healthy lunch. What many however don't know, is that a healthy lunch doesn't have to require hours in the kitchen. So what should a healthy lunch look like? Regardless of whether it's hot or cold, a lunch meal should be satiating and include a range of ingredients. A balanced diet, and plate should include carbohydrates, proteins and fats (the good ones!).
Good carbohydrates are things like whole grain products (rice, pasta), potatoes, bulgur or couscous. A portion of protein can come in the form of legumes (chickpeas, beans), soy products, meat, fish or dairy products. Unsaturated fats can be found in olive oil, avocados, and nuts. Studies have shown that half of your plate should consist of vegetables, which are not only low in calories, but rich in vitamins, minerals and trace elements. A quarter of your plate should be made up of carbohydrates, and the last quarter should contain fats and proteins. Less than a quarter should be protein? Yes, because vegetables can also contain proteins (e.g. mushrooms or spinach) and will cover your daily recommended intake. To supply your body with optimal amounts of nutrients, you should pay attention to the right combination of these food groups. You can find lots of suitable recipes. How about our Naked Falafel Summer Salad or a hearty Ratatouille Gnocchi. Discover our delicious recipe ideas in the Every. Magazine.
After the what comes the how. The right stuff on your plate is important, but so is how you eat it, and that should be relaxed. It's important to take a break from busy work days and really be present during meals. Did you know that mindful smelling, tasting and chewing ensure that your digestion absorbs the food optimally and makes you more aware of your feeling of fullness? Give it a try.


Plan Ahead!
Whether you're preparing a single portion, or a meal for your whole family. Lunch or dinner, at home or in the office, the right organisation helps ensure that you consistently have a healthy lunch. By answering these questions, your plan should be more or less done!
1. Who is eating?
Are you making a meal for yourself, for you and your partner or for your entire family? This is important, as it will influence portion sizes and therefore what quantities you need to shop. It's also helpful to select the right recipe and structure this into your meal plan for the week. Writing a shopping list is always a great way to guarantee all the essentials are shopped and nothing is forgotten.

2. Where are you eating?
Are you going to the office? Working from home or eating on the go? There's often little time available to cook every day. The solution? Meal prep! Discover more about the advantages of meal prepping here.

Meal prepping requires some planning and time investment, but is really worthwhile. Just pick a day in the week (or weekend) where you can get your shopping, prepping and cooking done. This way, you've covered all your meals for the week and know exactly what you'll be eating. Don't have any equipment at the office to heat your meal? No worries! You can also meal prep cold dishes like fresh rolls or a Green Boost Salad.
What about ready-made meals?
We all know days where we don't have the time or the motivation to cook. That's also completely fine and totally normal. However, you should still pay attention to nutrients to make sure you're giving your body what it needs. Many supermarkets have a ready-made meal section with salads, wraps or even sushi that can be eaten within minutes (or even seconds). Whatever you select, pay attention to the ingredients. The shorter the list the better. Make sure that sugar, saturated fats, and additive levels remain low.
There are lots of exciting developments in this sector, and more and more companies are making high quality meals that require minimal effort or preparation and are rich in nutrients and taste amazing.
Quality, flavour and speed are core elements in the development of Every. Meals. With our meals all you need to do is grab a pan and an Every. product, wait 10 minutes and voila! Sublime Thyme, Umami Flip and Pumpkin Pasta are just three of our delicious, plant-based bowl varieties. And if you'd rather opt for something light, try our soups: Kale Minestrone or Hot Coconut.


Our tips & tricks for a healthy lunch
Now you know what a healthy lunch looks like, and why it's important. We've also put together some of our personal tips and tricks that you might find helpful:
Plan your meals. As already mentioned, it can be especially helpful in stressful everyday life to think about what you want to eat for lunch and when. If planning the night before seems too tight, you can use a weekly plan. This way you not only ensure that a healthy meal ends up on your plate, but you can also focus on variety. After all, the same thing over and over is kind of boring.
Less is more. This applies especially to meal prepping, and we don't mean portion size, but rather the ingredients. Select recipes that have a fairly short list of ingredients: cold salads, pasta or rice dishes. These are not only quick to make, but are also easy to transport.
Chopping is not a muss. Don't feel like standing in the kitchen for hours? Or getting blisters from your knife? You can always opt for frozen meals as well. These are not only richer in nutrients (e.g. vitamins) than many ambient options, but also save you all the pre-work.
Love leftovers! Still have some leftover potatoes, rice or pasta from yesterday's meal? It would be a shame to throw these away (we hate food waste!) so why not integrate them into your meal for the next day. Potatoes, for example can be easily repurposed into a summery salad. Saving time and saving food: a win-win! You can find lots of great recipe ideas for this online as well.
In conclusion, if you want to have active and productive days, then a healthy lunch option is essential. Mid-day fatigue and sleepiness can be easily avoided with the right meal choices. Plates that include good carbohydrates, valuable fats and energising protein are essential. With the right organisation and planning, you can guarantee a great lunch option every day. For all of you who really have zero time or inspiration to cook, you know that you can always count on your trusted Every. meals!

Curious for more? Discover these articles:
For even more foodie-content follow us on Instagram and join the Facebook Community to get involved in meal creations and to stay up to date on all things Every.