Add {{ number }} more products to save {{ price }}
0
Add {{ number }} more products to save {{ price }}
noch 1 Produkt für gratis Versand (spare 5,99€)
20. June 2022
Galileo at Every. – The Innovation Behind Frozen Vegan Meals
What distinguishes Every. from other ready-made meals? What are the advantages of a vegan diet? Why is frozen food so innovative? We had the pleasure of speaking to the Galileo team and answered questions about the founding story of Every. and plans for the future!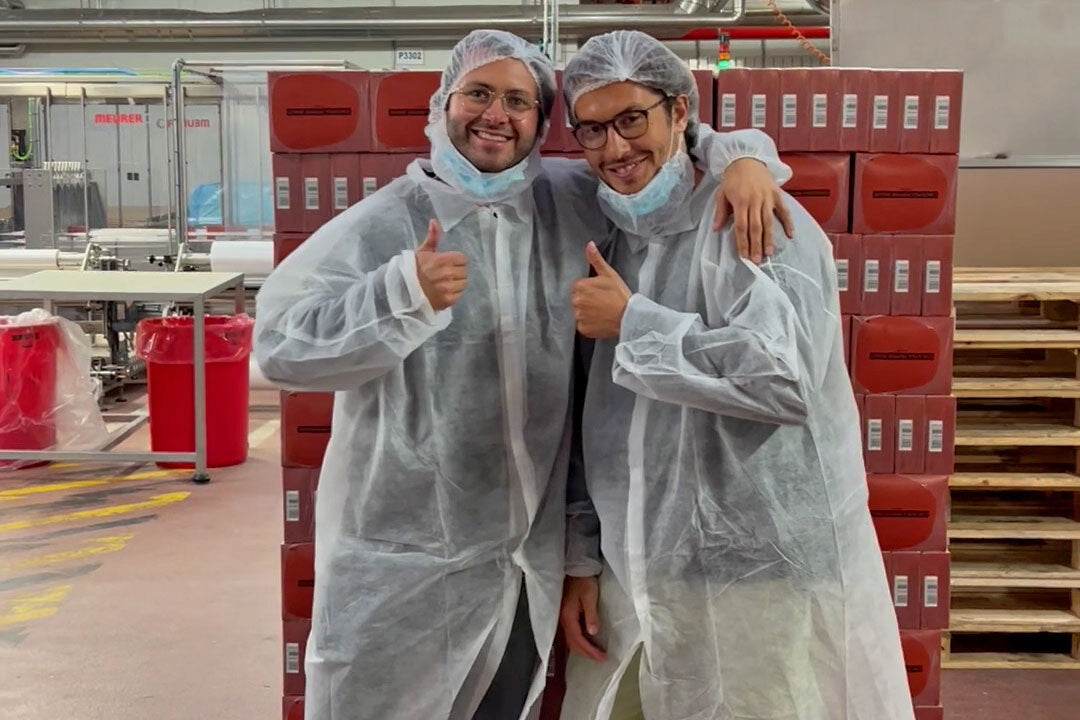 A few weeks ago, we had the pleasure of having the film team of Galileo come to our office in Berlin to hear the story of Every. It was a very exciting day where we got to answer some burning questions about how Every. came to be, the story of our founders, how our production works and what our plans for the future are! You will be able to watch the whole feature on June 23rd on ProSieben.

For those of you who are already curious, we've summarised the highlights for you here:


1. How did you come up with the idea to develop Every.?
In our previous jobs, we were constantly confronted with the same dilemma: not a lot of time available but wanting to eat a healthy meal. Generally, we found that our meal standard is very high. Food needs to taste good, needs to be prepared fast (especially for lunch) and must have a minimal impact on the environment. The food landscape in Germany had very limited options that qualified under these criteria. The consequence? Opting for unhealthy options that are fast to prepare, e.g. your classic fast food options or something expensive. We were committed to change this and offer an affordable, convenient and healthy option.

2. Why did you choose a frozen food product?
The advantages of frozen food are tremendous, and frankly often overlooked. All of our raw ingredients are harvested at peak ripeness and frozen directly on site. This locks in all of the nutrients and ensures optimal preservation of flavour and texture. Frozen food actually has a higher nutritional profile than many 'fresh' fruits and vegetables found in supermarkets. These are harvested prematurely so that they can ripen during transport and storage. Fresh produce decomposes quite quickly, and nutrient levels plummet. Carrots for example lose 80% of their Vitamin C within a week of harvest. So the beauty of Every. is quality without compromise, delivering flavours and textures that taste freshly made, with a very intact nutrient profile.

3. How are your recipes created? Do you work with chefs?
Our meals are co-created with other experts in the field, like nutritionists. We sample inspiration and ideas from everywhere: cookbooks, restaurant experiences and personal experiments in our own kitchen. We observe current trends in the food industry, we focus on seasonality, and above all, we listen to what our customers want. Our team consists of an eclectic range of food experts: an award-winning cookbook author, a vegan restaurant owner, the son of a Michelin-starred chef and a food-engineer. The entire team consists of self-proclaimed foodies and all of us love to eat. The average time between a recipe idea and the finished product can be as short as 6 weeks. This gives us the amazing advantage to respond to requests and trends quickly, as well as delight our customers with a constantly evolving menu. So far, we've also completed 4 collaborations with famous food bloggers (e.g. Bianca Zapatka and Sofia Tsakiridou) and are always excited to start new projects with like-minded food enthusiasts.

4. How are you different from your competitors?
All of our meals are 100% vegan. We only use ingredients of the highest quality which are harvested at peak ripeness and frozen on site. This not only guarantees optimal nutrient levels, but also a fantastic flavour experience and crisp, fresh textures which taste like they were freshly prepared moments ago. We never use any chemical ingredients, additives or preservatives. Just clean and wholesome ingredients that nourish you.
Our current product range also enables an effortless, plant based diet all day long. From breakfast, to smoothies, to snacks, to full meals to dessert. We've made a vegan diet not only easy and effortless, but super convenient. All of our products are prepared in under 10 minutes, using only a pan or microwave. All the preparation has been done for you, no shopping, chopping or peeling necessary. This hopefully saves you valuable time that you can spend on yourself, or doing something you love!

5. How do you justify your price?
Our meals are restaurant quality and taste freshly made. Thanks to our stellar ingredients, we can promise a premium food experience, in spite of little time available. Our ingredients are not only of the highest quality, but are often quite rare to find. Water chestnuts, green spelt, zoodles, romanesco, pine nuts to mention a few. These ingredients are not only highly nutritious, but are not readily available in conventional supermarkets. Furthermore, we are not frugal with these ingredients but use generous amounts of them in our meals to add even more value to our customers' experience.
We also pay close attention that our meals are balanced and deliver important nutrients. Our meals consist of all the important macro and micronutrients that our bodies need for optimal function. All the complexity in both the ingredient assembly and the recipe has all been done by us, making a vegan diet as effortless and delicious for our customers as possible.

Why vegan?
Sustainability is a core principle at Every and an integral part of our mission, especially when it comes to developing our meals. A plant based diet is not only delicious, but it's an excellent way to reduce our environmental impact. Our meals have an average carbon footprint of 1,1kg. Food items that contain animal products have a carbon footprint at least 3-4x this amount. Going plant based has been praised by the scientific community as the most effective way to reduce our environmental impact. Thanks to the recipes and ingredients we source, our meals are high in flavour and nutrients, making it that much easier to do without animal products (really, you won't miss it! Take it from me, the author of this article and a non-vegan Every. lover).

7. How sustainable is Every?
As mentioned above, sustainability is a key component of Every. This starts with our decision to be 100% plant based, but is also a guiding priority along the entire supply chain. We deliver our products exclusively in renewable materials that are recyclable. The carton can be disposed of in waste paper. The insulation mat is compostable (it's made of straw and hemp) and the individual Every. boxes can also be disposed of in paper recycling.

Dry ice (condensed carbon dioxide) is also included in the packaging, which helps keep our products frozen during transport. Dry ice makes up almost 25% of the 1,1 kg CO2 in our carbon footprint. It's not the perfect solution, we know, but currently the best one we could find and we are constantly looking for more sustainable solutions. The use of dry ice however fulfils an important purpose which is keeping our boxes frozen during transport from our warehouse to our customers' homes.
This in turn adds a great advantage to our sustainability mission: reducing food waste. Because our products are transported and stored frozen, there is no imminent expiration date, which helps prevent throwing out food that's gone bad. In fact, our products keep for up to 12 months, sometimes even longer. Food waste is a major problem globally, and in Germany. Annually, a third of all food that is produced lands directly in the trash. This can be broken down to approximately 75kg per head in Germany.

This is not only shameful, but preventable and unnecessary. Frozen food is a fantastic solution to this problem. No imminent expiration dates, no loss of flavour or nutrients, and giving you the flexibility to choose when to eat what.

8. What are your plans for the future?
We are currently working on some exciting products for the summer and the fall. Catering to our customers' requests is priority number 1 while also taking the seasonality of ingredients into account. We make sure that in the summer months we offer light, fresh meals and for the fall we transition to more comforting meals with ingredients that are sought after. The summer will include a new cold soup addition, and the fall will have hearty meals with ingredients like hokkaido-pumpkin. Similar to how a restaurant has a rotating, seasonal menu, so does Every.

For even more foodie-content follow us on Instagram and join the Facebook Community to get involved in meal creations and to stay up to date on all things Every.