Add {{ number }} more products to save {{ price }}
0
Add {{ number }} more products to save {{ price }}
noch 1 Produkt für gratis Versand (spare 5,99€)
8. February 2021
"Eat well, feel better" with Carolin Kotke
We have 3 new bowls on the menu! Colourful, diverse and all according to an alkaline-based diet. The mastermind behind these dishes is Carolin Kotke.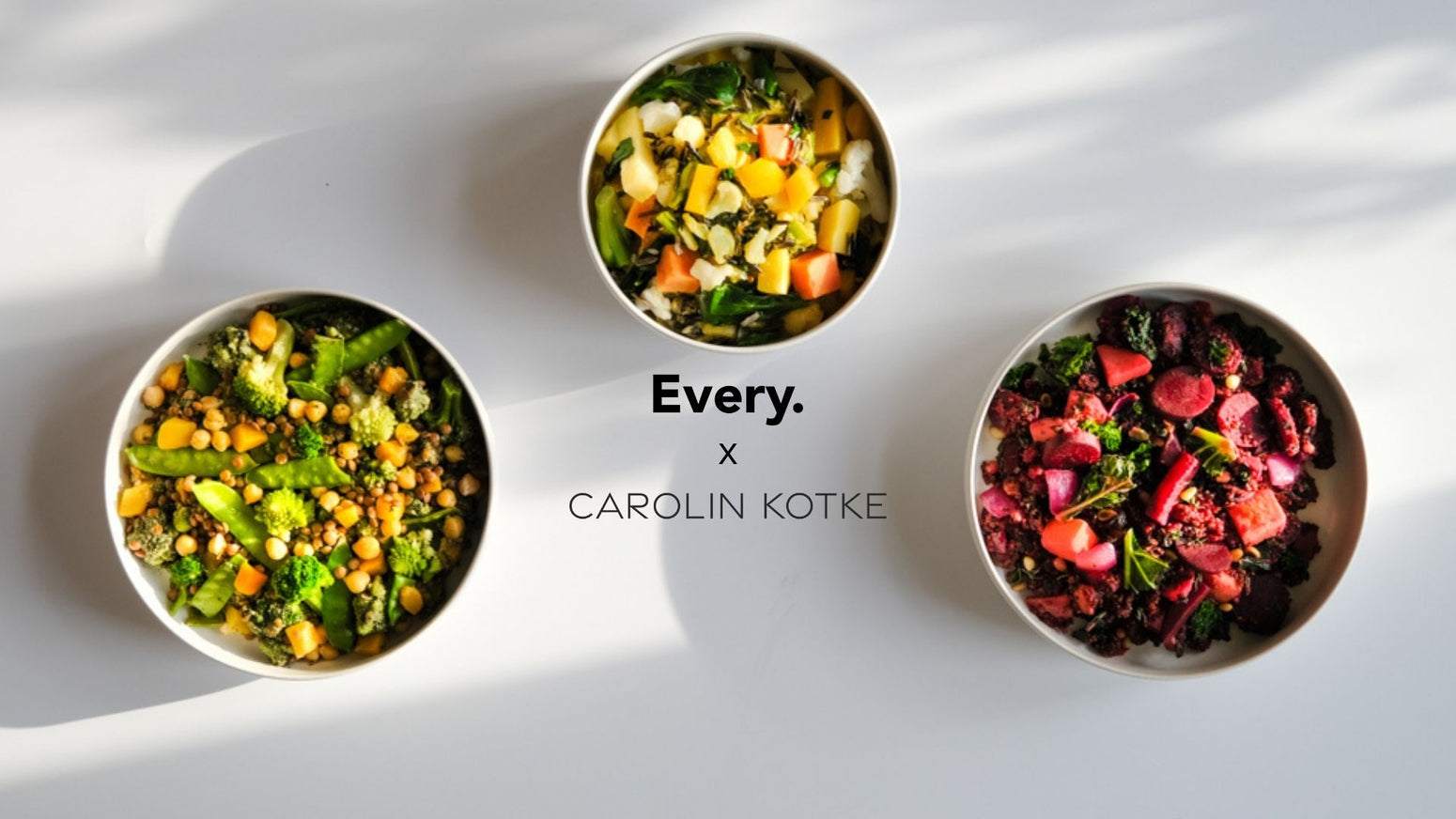 We have three delightful new bowls in our product range. Colorful, diverse and alkaline based!
The lovely mastermind behind these recipes is Carolin Kotke, renowned nutritionist, breast-cancer activist and blogger. In 2018 Carolin's life was turned upside down with a breast cancer diagnosis. She switched her diet to nourish and strengthen her body and help battle this disease. Since then, she leads a more health conscious and fulfilled, carefree life. You can read about her story and professional expertise on her blog carolionk, on her instagram page and in her "Eat well, Feel better" nutrition seminars.
The collaboration between Every and Carolin was formed through a shared ambition to raise awareness about the benefits of healthy habits and to motivate people to elevate their lifestyles through good food. This shared mission was expressed with our three delicious, health-boosting creations. We're sure that you'll love them as much as we do.
Green Boost: minty romanesco and snap peas on a bed of lentils and chickpeas.
Dreamin Red: red beet and purple carrots paired with red quinoa and sweet potato.
Glow Up: Vegetable mango medley in a lemongrass curry.
Carolin's thoughts on healthy nutrition and the inspiration behind her 3 Every. bowls
Have you ever thought about why you consume certain foods? Reasons that spring to mind are probably to relieve hunger, because it tastes good, for a source of energy, or a social occasion. But our food shouldn't just be a means to an end, its more than essential fuel. Food should energize and nourish us. Good food is key to maintain if not improve our health. It's incredibly important that our food is balanced and gives us all the essential nutrients we need. Our food should be comprised of a mixture of carbohydrates, proteins and fats, as well as a range of vitamins and minerals. Nutrients that are essential for our health and keep us going.
Eat well, feel better
The saying 'You are what you eat' took on a whole new meaning for me when I was diagnosed with cancer in 2018. I immersed myself in nutrition topics and discovered that the majority of foods we consume today are filled with refined sugars, plain flour, processed plant oils, as well as fast foods and countless additives. This kind of sustenance is satiating and energy rich, but severely lacking in vitamins, minerals and omega-3 fatty acids. All of which are essential for our body to function well. The consequence: we feel increasingly fatigued and sluggish, have a weak immune system, heartburn, skin problems and are liable to infections and illness.
It has become my life's passion to encourage people to be more aware of how and what they eat. Encouraging people to elevate their lives through food, under the motto "Eat well, feel better".
Since my diagnosis, all of my food choices correspond to the alkaline diet and I prioritise ingredients that are nutrient-optimised. What does that mean exactly? I try to pay close attention to the acid-alkaline balance in the foods I consume. Maintaining a good equilibrium between these two is at the core of our well being. Therefore, I ensure that about 80% of my diet consists of foods like fruit, vegetables, herbs, sprouts, nuts and seeds. Rounded off with nutritious forms of cereals and legumes. Animal products, sugar, flour, alcohol and coffee are rare exceptions.
Why is Every. a great option for people who are ill or battling a disease?
A cancer diagnosis has an unfathomable impact on your life. Your world gets turned upside down. You feel lost and helpless. Completely powerless and at the mercy of the horrible situation you're in. It felt like I had completely lost control of my body. Thankfully, I gradually regained some control bit by bit, and the way I did that was through my diet!
After my first chemotherapy session, I felt awful. I barely had any energy and tried to regain strength through my food. I prioritized a healthy, balanced and conscious diet with a focus on diverse nutrients. I noticed that my body really benefited from these food choices and that I slowly began feeling better. So I decided to make this change in my diet long term.
For these reasons, I'm thrilled about the collaboration with Every. We've created three wholesome, nutritious and alkaline-based bowls. Ready in just 10 minutes, these bowls make a healthy diet simple and effortless. Every. and I are perfectly aligned on this shared mission: to make healthy eating accessible and easy for everyone.
My three Every. bowls: "Eat the Rainbow"
Each of my 3 creations with Every. offers a wholesome and alkaline-based meal with a holistic nutrient profile. The bowls contain complex carbohydrates, essential unsaturated fats, plant protein and a variety of vitamins and minerals. These foster internal well-being and help maintain our health. An additional benefit of my bowls is the abundance of valuable secondary plant substances, which not only give the bowls their vibrant colors, but offer beauty boosting and cell protecting properties. True to the motto "eat the rainbow".
Green Boost
Contains valuable cruciferous vegetables like broccoli, romanesco and spinach. Rich in chlorophyll and antioxidant properties which help fight toxins in our body. This also strengthens our immune system and supports our metabolism. Legumes like lentils and chickpeas provide a great source of energy. A true cell and energy booster.
A combination of mango, carrots, parsnips, peppers, sweet potato and tumeric creates a powerful antioxidant concoction with cell protecting, anti-inflammatory beta-carotin and polyphenol that lets us glow from the inside out. To add a final cherry on top, we've rounded off the bowl with pumpkin seeds and black rice, full of vitamin B and 'cell protecting' vitamin E.

Dreamin Red
Red beets and purple carrots offer a large dose of Anthocyanen, which gives the bowl its lovely violet coloring. Anthocyanen is also known for protecting our bodies from free radicals and cardio-vascular diseases. Sweet potato and carrots enrich the bowl with valuable beta-carotin, while quinoa and chickpeas offer a source of satiating and energizing protein.
Discover all of Carolin's bowls and the rest of our collection here.